Introducing ERA's Ultimate Puzzle Competition!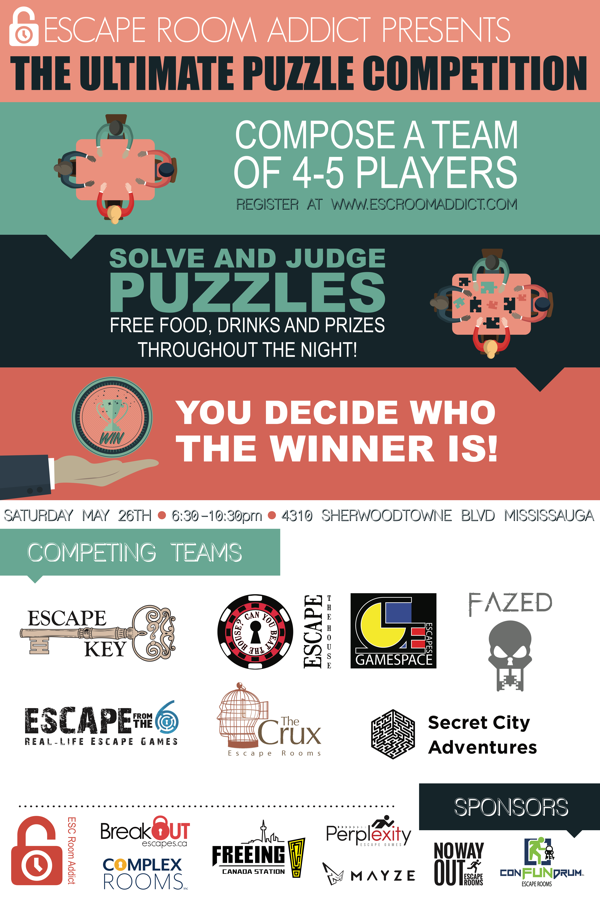 Ladies and gentlemen, allow us to introduce the 1st Annual ERA Ultimate Puzzle Competition! This amazing competition is taking place on Saturday May 26, and you will want to be there! Here's how it works: several of the best escape room companies from across the GTA and beyond create and build a tactile, hands-on, 10-minute puzzle. You put together a team of four or five people and try to solve these puzzles. Then you review and rate them. We tabulate the results and crown one company the puzzle-building champion!
See the poster above for participating companies and sponsors. There will be door prizes, giveaways of free passes, free food and refreshments, and hopefully lots of fun, puzzle-solving goodness. Unfortunately, registration is now closed. To those of you who signed up, thank you for your interest. We will be selecting and contacting teams over the next several days so keep your eyes peeled for an email from us with further details. Hope to see you all there!